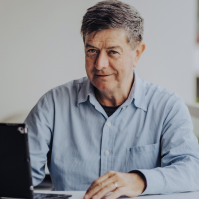 Mark Rutherford
Thrillers, Historical Fiction, Children's
I have lived a life that has taken me all over the world, including thousands of sea miles in large and small vessels. I became a business specialist in energy efficiency, witnessing man's ability to dramatically cut greenhouse gas emissions while witnessing man's reluctance to do so. I have witnessed the increasing polluting of our oceans, the decline and loss of species. I have witnessed the triumphs of mankind to save species, reverse diseases or tame the natural environment.
I grew up in Melbourne, Australia enjoying an active outdoor life on the water and in the bush. I joined the Royal Australian Navy as an officer cadet and made that my first career, leaving after fourteen years with the rank of Lieutenant Commander.

I married Heather and we raised two wonderful children who have in turn started their families, giving us 5 grandchildren.

After the Navy I had a number of businesses in electronics and energy efficiency with a brief period as a coach and mentor in leadership and management. The last twenty years of my career saw me build a successful international business based on innovative, energy efficient lighting. After selling this business I embarked on my writing career.
Education is the passport to the future, for tomorrow belongs to those who prepare for it today.
Malcolm X